Bilingual Call Center and Contact Center Services
Let us take care of your valuable customers at up to 50%-70% less than our US-based competition. Looking for a partner for your call/contact/support center services? See if we can help!
Centris Information Services is a nearshore customer contact and call center focusing on bilingual call center and support services.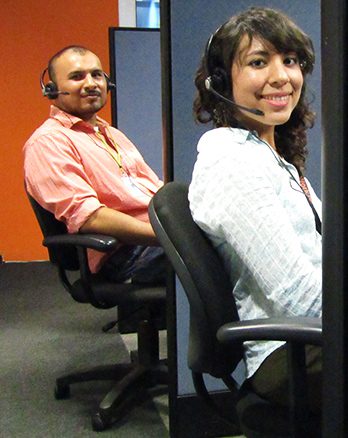 A customer contact and call center started by two brothers in Longview, TX. Centris has major operations in Mexico. We've been helping our customers for more than 20 years. We're focused on providing high quality bilingual call and technical support.
Centris works with your company to develop a custom solution: From call and contact center services to back-of-house support services like web design and insurance claim processing. We help you reach the ever-expanding Hispanic market with bilingual capability for call and technical support.
Centris provides up to a 50-70% savings over U.S.-based call centers … all without sacrificing quality. We're as close to the U.S. as you can be without being in the United States. Work closely with your team in Mexico: We encourage interaction with agents. They're part of your team.
Hear What People Are Saying About Us
Some of the Services We Offer
What makes our employee spotlight winner Leslie Flores so special?  She is energetic, passionate about resolving customer's calls. She has a wonderful tone and manner.  Leslie out stands because she always makes sure she shares her secret sauce. She encouraging and mentoring others to make sure everyone is successful.
Although she has only been with us for a little over a year, Leslie hasn't wasted any time sharing her passion for helping others on the phone. She also loves leading and guiding those in need. 
Leslie has contributed to her family's income since she was 16. She admits that being the youngest makes her a little spoiled, but she doesn't use it as an excuse. In fact, she helps her brothers and sisters with their homework
Traveling is one of Leslie's passions.  Her bucket list includes New York, Paris, Japan, England, and Canada.  After work, she likes to go home to her family and dog Kenny, a medium Schnauzer.  Leslie enjoys reading fantasy novels, watching movies, and listening to all genres of music. Anything she can sing along with!
Leslie enjoys her job because she loves making callers happy by resolving their issues. She is grateful for the positive family environment at Centris.
Thanks, Leslie, for being part of our family! We look forward to growing with you and helping you reach your goals!
Download Whitepaper
Fill out the form below and get our exclusive whitepaper: A guide to understanding the shift of moving contact center operations to Mexico.